Our updated and improved Museum Loan boxes have real artefacts and replica objects for children to investigate. They include information about how and why objects are important to Mid Devon and lots of lovely resources to use in school. We send you the worksheets and artefact lists as PDFs when you book so you can use them in your planning.
Members get 6 FREE Museum Loan boxes per year, or boxes cost £20 per box per half term. We ask you to collect Museum Loan boxes and then bring them back on time.
1. Life in Victorian Times – A must for those studying Victorian history or local studies. Lots of nice objects used by Victorian people in Mid Devon.
2. Victorian Education – Great for any projects on the history of schools and children includes a cane and slates along with activities for the classroom.
3. Victorian Toys – A wonderful box of toys to play with and books. Come and do our Toys workshop at the museum too!
4. Victorian Laundry – Lots of interesting objects and worksheets to explain this process. We run Victorian Laundry sessions at the museum throughout the spring, summer and autumn.
5. Victorian Kitchen – Children will find out about tools and processes of the past. Object label activities included as well as adverts and word searches.
6. Victorian Home Life – Explore the lives of people in the past with carpet beaters, chamber pots and more… this box also has information about food and diets.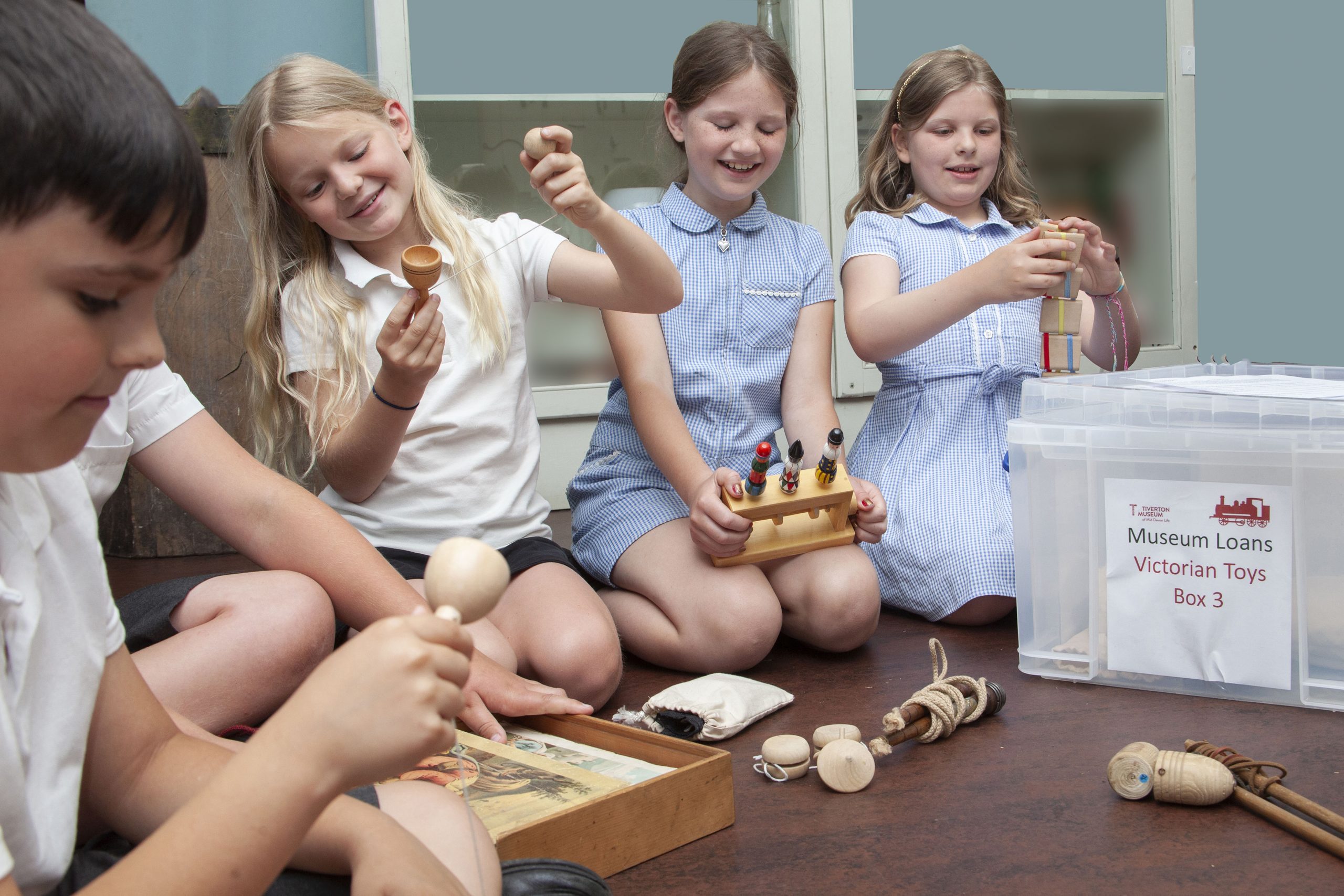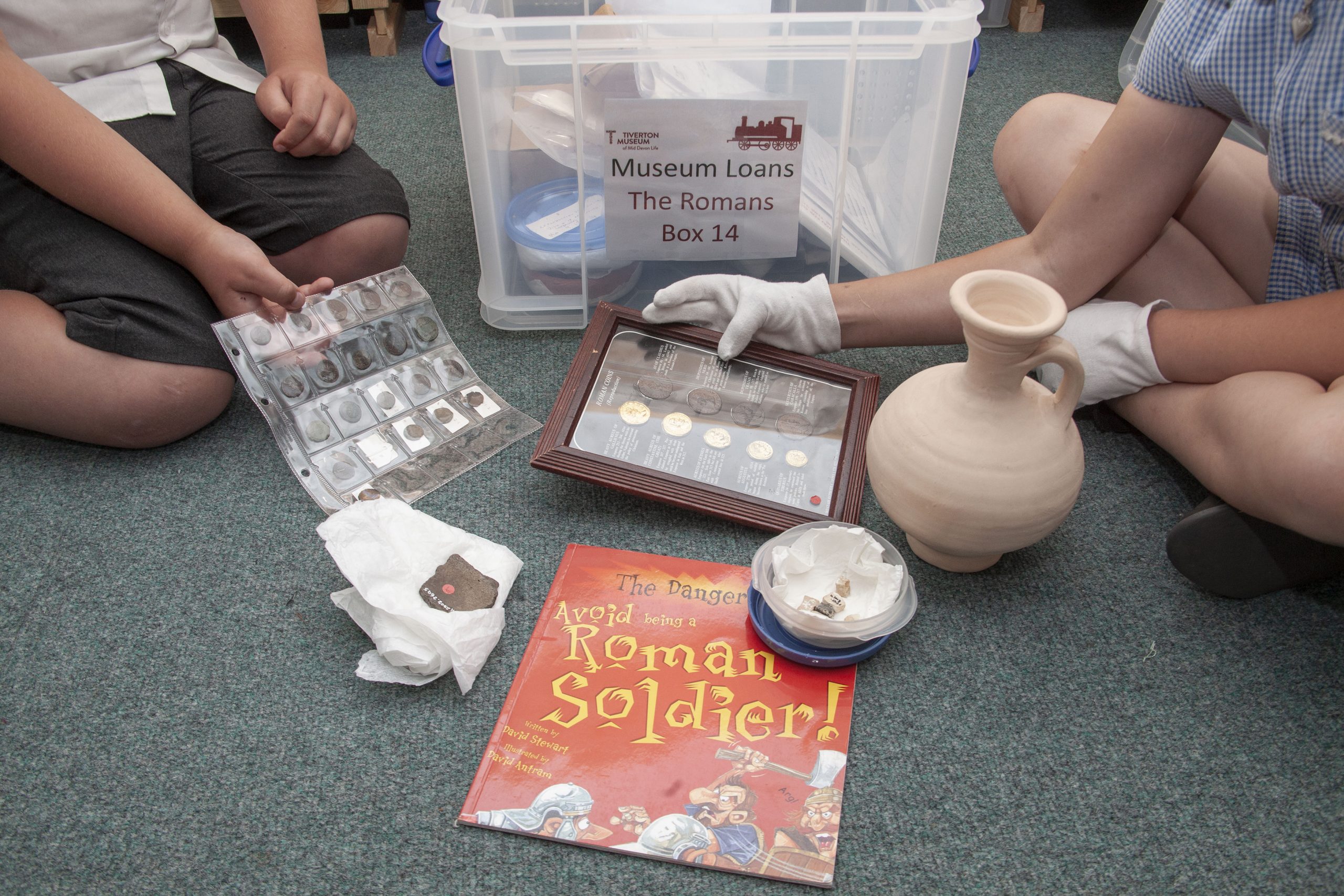 7. Victorian Leisure and Health – Explore seaside items, games as well as clay pipe and Victorian inhaler. An interesting box for those doing leisure and/or health.
8. Victorian Tiverton – Explore a small box of archival materials and photographs.
9. John Heathcoat and John Amory – A small box with a big history for schools studying Heathcoat and the factory. See our workshops for more resources on Heathcoat and co!
10. WW2 at War – Explore WW2 throughout objects and archives.
11. WW2 Home Front – Another super box of WW2 resources with a police helmet to try on.
12. Home Life since 1948 – Explore how things began to change after two world wars. Includes items needing electricity, fashions and photographs of Tiverton.
13. Technology and Change – Great for 20th history projects or science and technology projects on electricity or mechanisms (2 boxes available).
14. Romans – Enjoy Roman artefacts and information. This box includes books and lots of replica items used in a Roman home.
15. Tiverton's Past – Objects in this box tell the story of our market town and the lives of people who've lived here from medieval to Victorian periods.
16. Seaside – Lots of lovely Victorian seaside resources, postcard making activities and objects for making a display (2 boxes available).
17. Toys and Games – Toys for children to play with from different time periods and lovely sorting activities alongside simple information and books (2 boxes available).
18. Life in the Home – Lovely collection of home life objects with old radio and more.
19. Transport – Explore the history of all forms of transport including horse drawn vehicles, steam trains and other means of getting from A to B. This box includes maps of the area.
20. Stone to Iron Age – Two boxes available: the first has storytelling resources and lots ofdifferent materials as well as information about prehistory. The second is more focussed on history but also has lots of lovely materials and replica objects.
21. Telephones – A collection of phones from different ages.
22. Tivvy Bumper Story Box – Enjoy lots of photos (old and new), stories, books, toys and information about the Tivvy Bumper in the museum.
23. WW1 – There are some amazing stories about WW1 from animal heroes to lifein the trenches. These boxes have costumes to wear.
24. Roman Coins – A smaller box but with a big story to tell. Lots of coins and interesting information to go with them.
25. Anglo Saxons – Recently improved with clothing and a class set of weaving tools touse! A few books and some activities in this box too. This box is great alongside our Anglo Saxon workshop in the museum.
26. Mystery Objects – Some objects that will get the children thinking. Good for a corridor display or a gifted and talented group who want a challenge.
27. Tiverton Local Studies – A box that accompanies our in school local studies session. Lots of great photographs of Tiverton including artefacts and photos about work, leisure and policing. Also includes a small canon ball fired at the castle!
28. Cullompton Local Studies – Another box to complement our in school session. Children can explore wool trade, markets, people and trade.
29. Bampton Local Studies – Great for anyone looking at schooling in the past or Bampton. Some photographs of the fair through time and good for time comparison exercises as lots of new and old.
30. Crediton Local Studies – A lovely box that looks at rural life and town life. Lots of historical photos of the town and surrounding area.
31. Farming Life – Take a look at the seasons and the history of farming in Mid Devon.This is a really important part of our past and could be a local study!
32. Ancient Worlds – A small box with a few resources comparing prehistory in Mid Devon with Ancient Egypt, Greek and African civilisations. Includes an African headrest, replica ancient Egyptian sock and some stone age tools.
See our Schools' Programme for more information about our Museum Loan boxes.
To book a box email education@tivertonmuseum.org.uk or call 01884 256295