Family Visitors
Tiverton Museum is the perfect place to head for a family day out.
You'll find play stations and interactive elements, including the chance to stand on the footplate of the Tivvy Bumper steam engine, around the galleries.
Dress to Impress with our dressing up stations around the museum; the whole family can take part.
We have trails and quizzes available based on our collections to follow round the museum. Pencils will be quarantined for 72 hours and sanitised after use.
Explorer Backpacks (suitable for children of all ages) on a range of themes are available to borrow free of charge from the front desk. The backpacks include trails, toys and books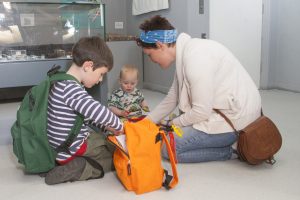 to help our younger visitors explore the museum.
Check the events page to see upcoming holiday activities, handling sessions and special events.
The site is fully accessible and there is a lift to access the first floor.
Virtual Jigsaws
Why not have a go at our online jigsaws using photos from our collection.
Have a look at our online jigsaw album.
We are dependent on admission income and have limited cash reserves. Donate to our Emergency Appeal.