Towards the end of September, the Gazette published the prizes and awards gained at Tiverton Technical, Science and Art School for 1920-1921. The prizes were awarded in 'sections' which included Art, Craft-work, Trade, Manual, Science, Domestic as well as Commercial and Literary. Come and see some of the equipment the 'domestic' students would have used in the Museum's kitchen!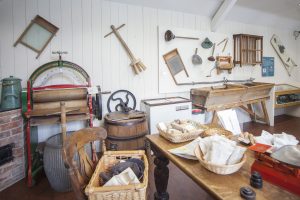 The Hadow Medal, on display at the Museum, was also awarded at the School. In our Archives we have a list of prize winners from 1919 – 1922 and the programme describes the medal.
'This silver medal was endowed in 1895 by voluntary donations to commemorate the connection of the Rev G Hadow MA with the School, as Chairman, from 1876 to 1892. The medal is awarded annually to the student most successful in Science or Art work.'
The local press at the end of the 19th century frequently reports on his close connection with all Tiverton Schools. George Hadow also donated the drinking fountain in People's Park which is currently being restored to its former glory and will be unveiled on Saturday September 25th.
The image is of the Hadow Medal which is on display in the museum, showing the name of the school and a depiction of Tiverton.