Towards the end of October there were reports of the 'Carnival Season' in the Gazette. Although just over the border into Somerset, the long established Dulverton Carnival, was described in some detail. It was a 3 day celebration in 1921 and included amongst others 'a dog show, shooting gallery, barrel organ, hat trimming competition, skittles and musical 'entertainment'. The 'illuminated parade' took place through the streets on the Saturday and it was promised that there would be 'no witches, wizards or trickery'!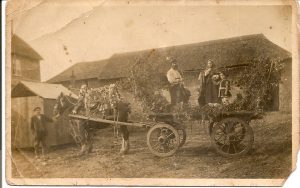 Come to the Museum and see our own barrel piano, it's under the staircase. Unfortunately, it's not working at the moment, so you won't be able to hear the tunes it can play which include Daisy, Daisy, Daddy wouldn't buy me a Bow-Wow and Take a Pair of Sparkling Eyes. The photo, not the same barrel piano, was probably taken at Tiverton carnival.
The other photo shows a farmer's family at Broadclyst preparing for their carnival in about 1920.