There was very little in the Gazette of 6th December 1921, apart from this advert for W H Smith, to herald the coming of the Christmas season.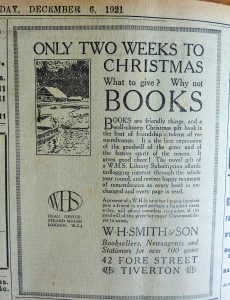 There was a report of a 'Smoking Concert' held in the Oat Sheaf Hotel in Crediton. These were a popular form of entertainment for men during the Victorian era and for some years later. New musical acts would perform and the audience would smoke and talk politics. In Crediton the entertainment was 'a clever ventriloquial turn'.
The Oat Sheaf was on the corner of Searle Street. It became the Exchange in 1989 but is now no longer a pub. The building is notable and has a Grade 2 listing. This photo of Crediton High Street, from a slightly earlier time, shows the Town Hall on the left and on the opposite corner of Searle Street, behind the tree, the Oat Sheaf Hotel.