In early January 1922, the effects of the weather were reported widely in the Tiverton Gazette:
'the full force of the south-west wind was experienced on the hill just above Bolham on which the Mount Pleasant Sanatorium is situated   …. a gust of exceptional violence… lifted the roof of the wards off completely'.
Information about this facility for treating patients with tuberculosis, is difficult to find. The newspaper article tells something of its origins and position. It was established in a 'reconstructed army hut in the shape of the letter L' with a corrugated iron roof. It was opened in June 1921. There only four patients on the night of the storm, all young boys. Far from being scared by the ordeal they regarded it as 'an interesting adventure'!
The article suggests that the Sanatorium was situated on the opposite side of the road to the Cricket Club as 'some of the roofing was blown as far as the edge of the cricket-pitch'.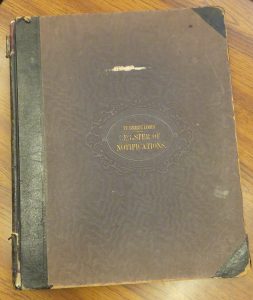 Tuberculosis was, and still is, a notable disease. The Museum holds a Register of Notifications which starts in 1919. This register also helps a little with the story of the Sanatorium. It must have continued after the storm of January 1922. There are a few patients registered at the Bolham or Mt Pleasant Sanatorium. The last entry appears in December 1924.
The Heathcoat Cricket Ground was close to the Sanatorium and the photo shows the Club's 1923 team.