The following was part of a letter written to the Editor of the Tiverton Gazette in late March 1922:
'It is indeed surprising that no voice has been raised against the imminent suppression of Ayshford School. It is a very striking fact that although we are spending enormous sums on education, the education of the middle classes in the remoter country districts is at a lower level than it was eighty years ago'.
The letter was written by Edwin S Chalk who was the Rector of Kentisbeare at the time.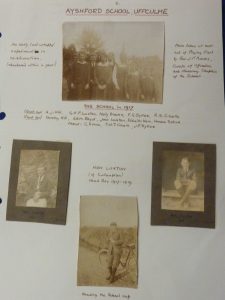 Looking for an artefact to go with this extract from the Gazette, a small collection of papers and photos were found in our Archive catalogue. It was an intriguing co-incidence to find that this information had been submitted by Edwin Chalk's son, Richard, who himself had been a pupil at Ayshford School, Uffculme from 1916 – 1918. His father also composed the school song, as seen in the manuscript we hold. The School closed and there is some evidence that the building then became a Childrens' Home. It is now a residential property.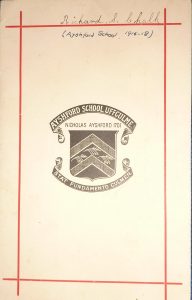 Written by museum volunteer, Sue