The Tiverton Gazette of the 1920s has a section devoted to village news. This appeared in the Uffculme news in early April:
'A rough grey stone has been erected at the approach to the Memorial ground during the past week. It is inscribed "These grounds were bought and laid out by public subscription and dedicated to the public of Uffculme in grateful memory of those who gave their lives in the Great War 1914-1918". A roll of honour follows and "God Save the King"'.

The Museum houses quite a few objects from Uffculme Station, most of which are on display in our Transport Gallery. Uffculme was on the Culm Valley line which ran from Tiverton Junction to Hemyock, with another station at Culmstock. It was opened in 1876 and was a 'light railway' which meant there were restrictions on loads and speed. Later 'halts' were added at Coldharbour and Whitehall.
The line closed to passengers, under the Beeching Axe, in September 1963 remaining open for freight until 1965 and for milk tanks from Hemyock until 1975.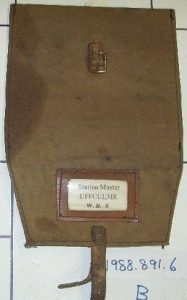 The Stationmaster's pack was used to transport documents from Uffculme up to the Audit Office in Reading.
Written by museum volunteer, Sue.