In early May 1922, there was a letter from London in the Tiverton Gazette.
'You will notice during the last few weeks that the International Stores Advertisement has been devoted to advertising Ceylindo Tea; and drawings from Dickens' books, prepared by a very well known black and white artist, viz., Fred Pegram …….. We would like your readers to know that if they would care for copies of the illustrations, which would be free from any advertising matter, we should be very pleased to supply them…….'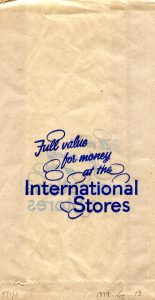 The International Tea Company was founded by two enterprising gentlemen in 1878. They wanted to sell tea directly to the customer rather than using wholesalers. This also made possible the selling of tea in small shops who were unable to place large enough orders with the big wholesale companies. Within 10 years, 200 shops had opened.
Amongst the fantastic resources available in our Research Room are copies of Tiverton Directories through the years. In 1920, the International Stores is listed as the 'International Tea Co' at 3 Bampton Street but by 1947, it had moved to 13 Fore Street. Some of you may remember it here.
The International Stores was taken over in 1972 and eventually became Gateway and then Somerfield.