In early July 1922, the Gazette reported a meeting of the Devon Main Roads and Bridges Committee. As well as discussions about Baulk Bridge at Cullompton, there were topics of interest to inhabitants of Halberton, Silverton and Culmstock.
'tenders were opened for carrying out improvement to the Tiverton-Wellington main road near Halberton… the lowest bid at £625/2/6d was accepted. It was also decided to purchase the necessary land, a quarter of an acre, for £25'.
'Inhabitants of Silverton and Culmstock having petitioned for the main roads through those villages to be surface tarred, the matter was referred to the Divisional Committee.'
Silverton is well represented in the Museum. From our photo archive, this Edwardian scene at The Berry, shows the road as it would have been before the surface tar was applied.
Archie Tremlett was the blacksmith in Silverton from 1918 until his death in 1973. When his workshop became derelict, it was re-constructed in the Museum. He was the third generation of his family to work as the village blacksmith and a very  interesting character – come and learn more about him and his trade.
At the same time, discover the Silverton Fire Engine. Originally a horse-drawn vehicle built in about 1835, it was later converted to be pulled by a tractor. It was in use for many years, one of the last fires it attended was in 1934. Alongside the fire engine are photos of the crew.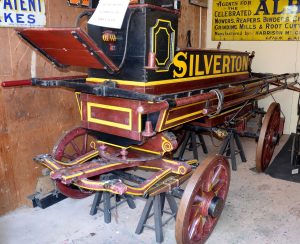 Written and researched by museum volunteer, Sue