There are plenty of ways to get involved with your local museum.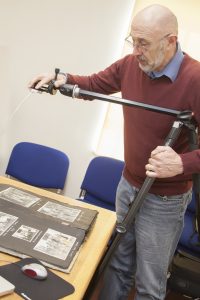 Volunteer
As we are a registered charity, volunteers play a vital role, both front of house and behind the scenes. Over 80 people currently give their time to keep the museum running. This equates to well over £100,000 added value to the work done at the museum in one year!
At the moment we are limiting the number of front desk volunteers and are reviewing the ways in which the rest of our team will be able to volunteer with us in the future. If you are interested in volunteering with us please do get in touch.
For more information about volunteering, please contact Pippa Griffith on 01884 256295 or director@tivertonmuseum.org.uk
Work Experience
We are currently unable to offer work experience opportunities. We will review this when the situation changes.
Membership
You can also get involved by making a donation by cheque through the post, or becoming a museum Member – see our Membership page for more details.
@ Sign up to be added to e-newsletter for all of our latest news and events.
Registered charity number: 1181976